BENEVOLENCE
Matthew 25:35-36: "for I was hungry and you gave Me food; I was thirsty and you gave Me drink; I was a stranger and you took Me in; I was naked and you clothed Me; I was sick and you visited Me; I was in prison and you came to Me."

The Benevolence Ministry exemplifies Calvary's commitment to do God's will and local missions. The Diaconate Board at Calvary happily and prayerfully feed the hungry, clothe the naked, and comfort the sick. The Benevolence Ministry meets the physical needs of individuals in the community and seeks to display the love of God through the disbursement as well as the connection of those individuals to resources.
BOARD DEACONS
"Wherefore, brethren, look ye out among you seven men of honest report, full of the Holy Ghost and wisdom, whom we may appoint over this business." Acts 6:3

The Calvary Baptist Church Deacon Board continues to strive to walk worthy of the calling of the "deacon" as outlined in 1 Timothy 3:8-13. We continue to serve and count it a blessing to be "called out" to function in this capacity.
BOARD OF TRUSTEES
The Calvary Baptist Church Board of Trustees is entrusted with the management of all church assets. The board is expected to:
Provide sound, Biblically based stewardship over the assets of the church
Work toward the continued financial growth of the church
Maintain and improve church facilities
Work in support of the Pastor toward the continued growth and expansion of God's Kingdom.
CHRISTIAN EDUCATION
CALVARY BIBLE INSTITUTE
Calvary Bible institute is the certified Christian Leadership School of Calvary Baptist Church. Using the COPP method, the institute has 5 objectives:
To increase the biblical knowledge of the student
To create an understanding of the Baptist faith
To provide an educational structure that will develop candidates qualified for teaching and leadership positions
To provide incentives for the candidates to complete the program
To produce trained church leaders.
KINGDOM BUILDERS' BASICS
Calvary Baptist Church recognizes the need for sound Biblical teaching for its members. The objective of the "Kingdom Builders Basics" class is to provide a basic understanding of Biblical beliefs and doctrines, as well as the goals, purpose, and mission of the Calvary Baptist Church.
SUNDAY SCHOOL
Sunday School Ministry has been designed to impart the Word of God through instructional formats, "for the perfecting of the saints, for the work of the ministry, for the edifying of the body of Christ", (Ephesians 4:12), and to assist in the "making (training) of disciples" to further God's work.
Classes are designed for all ages and for both new and long-time students of the Word.
MEN'S & WOMEN'S BIBLE STUDY
Bible Study is the time for church members to delve deeply into scripture. Guided, interactive discussions provide edification, clarification, and illumination concerning the word of the Lord. These specialized Bible Studies are crafted to address the concerns particular to men and women of the church respectively.
LIFE APPLICATIONS BIBLE STUDY (LABS)
LABS are minister led Sunday morning Bible studies for adults (aged 18 and older). These sessions are designed to supplement traditional Sunday School; they serve as a forum to address some of the most common, yet complex issues that face Christians today.
MID-WEEK BIBLE STUDY
Bible Study is the time for church members to delve deeply into scripture. Guided, interactive discussions provide edification, clarification, and illumination concerning the word of the Lord.
Additionally, each year, Calvary engages in a congregational book study and six weeks of summer Bible study sessions are dedicated to discussion of the chosen text and relevant scriptures.
CHILDREN'S CHURCH
Children's church takes place during the second half of 11:00 worship service. It's goals are:
To introduce youth to Christ and to the Christian faith.
To educate the youth on how to live a proper Christian lifestyle.
To help children cultivate an enduring, personal relationship with Christ.
To help guide youth toward accepting Christ as their personal Lord and Savior.
FOOD PANTRY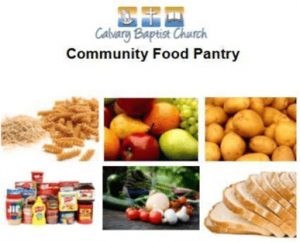 Calvary's Community Food Pantry
The Community Food Pantry provides "food with no strings attached" to Tompkins country residents and well as other community members in the region.
Pantry Schedule
The Community Food Pantry is open on the third Saturday of every month from 10:00am-12:00pm.
For information on how you can become a pantry volunteer, please contact us.
GREETERS' MINISTRY
The Greeters Ministry is a group of organized and trained people to officially represent the Pastor, church boards and the membership of Calvary equipped to provide a personal expression of Christian warmth and welcome to worshipers as well as new members and visitors.
The ministry focuses on the needs of the people from the time they approach the church entrance until they meet our ushers and are seated in the pew. This grants the opportunity to all who enter the building to feel connected upon their arrival to the worship experience. The result of the work of church greeters, when executed with love, is a plus factor in the total ministry of the church, and an extension and enhancement of one of the church's highest virtues and kindness.
INTERCESSORY PRAYER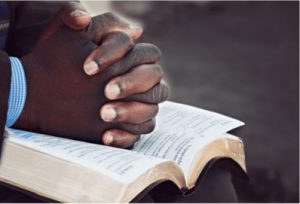 Intercessory Prayer
At Calvary Baptist Church we believe that prayer works, and we are more than happy to join with you in prayer.
There are two ways for you to request a prayer. You may do so in-person by taking advantage of our corporate prayer options, or you may submit your request on this page.
Corporate Prayer
Presently, We participate in 12:00 pm prayer call Monday-Saturday, and 7:15 am Sunday prayer call each week.
MEN'S MINISTRY
"And whatever you do, whether in word or deed, do it all in the name of the Lord Jesus, giving thanks to God the Father through Him."
Colossians 3:17, NIV
This ministry strives to support the men of Calvary as they discover how they are uniquely called and shaped by God to live fulfill the Great Commandment in every aspect of their lives. The ministry does this by identifying and meeting the needs of men by: developing leaders, helping men cultivate mature relationships with God, celebrating God's victory in changing men's lives.
TRANSPORTATION
At Calvary we never want lack of transportation to deter our members and visitors from coming to church, and so we run two vans each Sunday. To schedule a ride to Sunday worship service please contact us using the form on this
page
.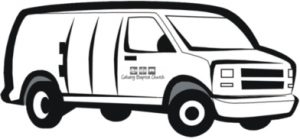 Titus Towers – 9:20AM
Ithaca College
Terrace Apartments – 10:35AM

Campus Center – 10:40 AM
Cornell University
RPCC

– 10:15AM

Flag Pole – 10:25AM

College Town – 10:35AM
USHERS' MINISTRY
We are doorkeepers in the house of Our Lord who use our gifts to make you feel welcome and at ease. We strive to set the spiritual mood for worship as we greet you at the door. Our caring and warmth is spread throughout the sanctuary in ministering to your spiritual and physical needs. We are ever striving to be friendly, helpful, respectful and prayerful.
WOMEN'S MINISTRY
The Women's Ministry strives to cultivate the multifaceted roles Christian women play in the work of God's ministry. In God's Word women play many unique roles (leader, servant, nurturer and encourager to name a few). Even as times continue to change, the roles that God calls us to remain the same. We come from many cultural settings, which adds a special harmonic blend. Together we lift up the Lord Jesus Christ as our Savior in our homes, places of employment and house of worship.
WORSHIP AND ARTS
Calvary's Choir, it's Dance Team, and it's Praise Team strive to enhance meaningful and spirit-filled worship experiences through singing and instrumentation. We seek to assist in creating an atmosphere in which the Spirit can move freely as the congregants engage in worship.
Our choir ministering through song.
Enhancing the Atmosphere
Our dance team adding some movement to worship!
If you would like to be involved in any of our worship and arts ministries, please be sure to contact us for more information!
YOUNG ADULT & COLLEGE MINISTRY
The Calvary Baptist Church Young adult and College Ministry seeks to provide enhanced ministry to our college population by assisting them in spiritual growth and discipleship as well as developing relationships within the church community. This is attained through intentional fellowship, monthly discussions and community service projects.
YOUTH MINISTRY
The Youth Ministry seeks to develop well-informed, active church members and future Church Leaders. We believe this is best achieved by: introducing our youth to Christ and Christianity, guiding our youth toward accepting Christ as their personal Lord and Savior, and helping our youth to cultivate and nurture enduring, personal relationships with Christ.
Every Sunday 9:00 AM & 11:00 AM